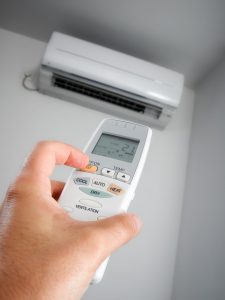 Has summer made you rethink your air conditioner? A lot of homeowners are in your shoes right now. The thing is that you need to choose the upgrades for your air conditioning system wisely. So many people in our area try to survive throughout the summer with tower fans and window units but trust us, you're going to need something a little sturdier to stay comfortable during this hot and balmy heat.
So many people cling to their window units because they're much cheaper than installing a central air conditioner and they allow every person in a home to have their own, customized cooling. There's a better way to do this though—invest in a ductless cooling system! Come to our team and we'll make sure that your HVAC in Alabaster, AL is flawless.
What's a Ductless Mini Split?
A ductless mini split system is a heat pump system that works from individual, autonomous air handlers rather than working from a network of centralized ductwork. Ductless mini splits use these air handlers to both heat and cool a home instead. These air handlers are great because they can be mounted high up on a wall so that they don't take up too much space. It's out of the way but it pours hot or cool air into your room just where and how you need it.
Ductless mini splits are great because they provide personalized comfort in your home. Typically, about four indoor air handlers can be connected to a single outdoor unit. This is normally enough to heat or cool all the major spaces throughout your home. You can even run all these systems together as you would with a central air conditioning system if you'd like.
What are the Benefits of this System?
Wondering why you should get a ductless mini split system in your home? There are so many benefits to this system including the following:
Customized Comfort: Have you ever bickered with one of your family members over the temperature of your thermostat? It's all too common. Not everyone has the same comfort needs. You can meet everyone's comfort needs if you install a ductless mini split system in your home. Ductless systems use individual, autonomous air handlers. That means that you can have your master bedroom set to 75°F while your living room is at 68°F. You can zone your home without the hassle with one of these systems.
Cost Savings: We don't mean to paint central air conditioners in a bad light. These systems are great. The real problem is that when you run a central air conditioner, you have to cool off your entire home even if you just want to cool off in your bedroom. Ductless mini splits allow you to work around this problem. Ductless mini splits allow you to cool your home where you need to rather than how you have to.
Year-Round Temperature Control: Ductless mini splits systems are heat pumps. That means that you can heat and cool your home from one system. This limits the amount of hassle and time you'd need to allocate to maintenance in your home. It's also a much better investment for your home comfort.
Contact Sullivan Service Co. We'll help you find a ductless system that's right for you.