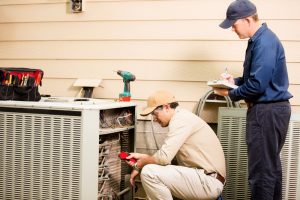 We're enjoying some mild spring temperatures right now here in Birmingham. Don't let the warm weather fool you though, these moderate temperatures will quickly melt into the baking, humid heat of summer. Your home needs to be ready for temperatures like these! If you're thinking, "Well, I can wait a few more weeks," then you've forgotten just how quickly temperatures heat up here.
It's always the most beneficial scenario for everyone involved if you schedule your HVAC services sooner than later. It ensures that you can get a timely appointment because you're ahead of the crowd and it allows a professional the opportunity to spot any potential problems when they're still far off on the horizon. If you need great residential AC services in Birmingham then be sure to contact our team for an appointment.
All About Our AC Maintenance
Maintenance is a key aspect of any healthy air conditioning system. If you're one of the many people that forget to schedule your maintenance services annually, you can enroll in our Comfort Zone Maintenance Agreement. We'll call you to remind you to schedule your appointments, help you almost double the lifespan of your air conditioner, improve the efficiency of your HVAC system, lower your utility bills, avoid breakdowns, and even offer you equipment discounts.
Maintenance might be something that you think you can skip on. Just because your air conditioning system doesn't seem like it's headed south doesn't mean that there aren't problems on the horizon—it just means that you can't see them. You need a professional in your home to make sure that your air conditioning system is up to par.
Signs That You Might Need Repair Services
So now you know why you need maintenance for your air conditioning system, but do you need service that's a little more in depth? Sometimes, it's hard to tell that you need air conditioning repairs if you're not a professional. Can you check off any of the following on the list below?
Your Unit Cycles On and Off Endlessly: You turn on your air conditioner, it runs for a frustratingly short amount of time, stops, and then starts the process all over again. This is what's called "short cycling": it's a killer for your AC unit and a terror to your utility bills.
Your AC Sounds Like Heavy Metal: You should really never be able to describe your air conditioner as "noisy." If your AC rattles, squeaks, grates, or screeches then you need AC repair.
You're Always Hot: Are you having a hard time staying comfortable in your home? If your air conditioner is running then you shouldn't feel hot. If you do, then it's a sign that your air conditioner is dismally out of shape.
Your AC Bill is Sky-High: You should never hesitate to turn on your air conditioner just because you want to save money. When you have AC repairs from a professional team you won't have to compromise.
Warm weather is right around the corner. The best thing you can do for your air conditioner for your home is service your AC now. Contact Sullivan Service Co. today to schedule an appointment with our team of expert technicians.