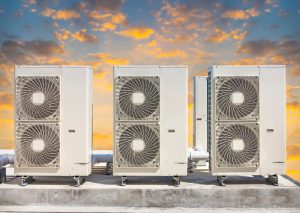 Are you looking for a great air conditioning system for your commercial business here in Birmingham? A packaged air conditioning unit might be the right system for you. Packaged air conditioning systems are the system that we recommend for most commercial businesses because they're compact, adaptable, and effective. You don't have the scour the Internet for resources or even phone a friend for an opinion, you can contact our professionals for the best service possible.
We have the best commercial HVAC in Birmingham, AL. You can come to our team when you want expert advice and service from a professional commercial HVAC team. Don't just choose anyone or even try to hire an amateur HVAC technician—we have great service for the right price.
What's a Packaged AC Unit?
A packaged rooftop air conditioning unit is typically the standard cooling system for a commercial business. That's because packaged rooftop air conditioning units are all of the following:
Adaptable: Most people start a business with the intention of growing, right? A packaged rooftop air conditioning unit can work around all your air conditioning needs. Rooftop units are modular. That means that you can add or even take away a unit if the needs of your business increase or decrease. This is great because you won't have to jump through hoops trying to get the most from your air conditioning system.
They Save You Money: Rooftop air conditioning systems are great because they're heat pumps. This means that they're incredibly energy efficient and that they can both heat and cool from the same unit. The thing about heat pumps is that they move heat rather than generating it directly. This is much easier on the air conditioning unit itself, the environment, and your wallet. Make sure that you consider a heat pump if you want an eco-friendly and energy-efficient system.
They Save You Space: You know that your space is incredibly valuable if you're in charge of running a commercial business here in Birmingham. It's important to get the most out of the space that's available. You don't want to waste any valuable space on housing an air conditioning or heating system. That's what makes a rooftop packaged unit so great. It goes on the roof, so you won't have to worry about housing this unit inside. It's out of sight, out of mind, and quiet.
Choose a Professional Team
We really discourage DIY when it comes to the work that we do with homeowners, this isn't really a problem with commercial businesses though. The problem we run into with a commercial business is business owners trying to hire handy people or loosely qualified amateurs to provide their HVAC services. You don't want to put the comfort of your business in the hands of someone that's dismally underqualified. If you're worried about cutting cost, you can contact a professional from our team. We provide amazing service at affordable prices. Come to us—Birmingham owned since 1959.
Contact our professionals today at Sullivan Service Co to schedule an appointment with our professional commercial air conditioning technicians.