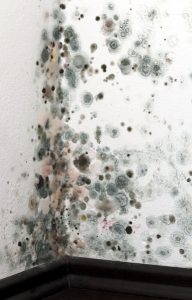 Here in Birmingham, the words "summer" and "humidity" are almost synonymous, but you don't have to deal with wet heat in your home! If you've struggled with humidity in your home in the past make this the year that you decide to act. A dehumidifier is a fantastic addition to any Birmingham area home. When you come to the experts on our team we can match you to the perfect brand and model of dehumidifier. You can't trust just any technician with these services. You want to the job done the right way the first time and we can be the team to do that for you!
Do You Need a Dehumidifier?
Sure, humidity is a big problem all across Alabama, but do you need a dehumidifier?
You Struggle with Mold
A clear sign that you're struggling with your home's humidity levels is mold. Hot spots for mold are the ceiling in your bathroom, around your toilet, or surrounding the shower. If you're seeing mold outside of your bathroom your humidity levels are extremely bad. Make sure that you contact our team at your earliest possible convenience.
Your Windows are a Little Foggy
Do the windows of your home have beads of water collecting on them? This means that your room has way too much moisture in it. This could be a combination of your humidifier working overtime, your home being improperly sealed, or the humidity levels in your area are excessive. We can help you pinpoint the source of the problem.
Your Home has a Funky Scent
Do you notice any musty odors in your home? Don't write this off! This is normally a sign that you're smelling mold or mildew before you're seeing it. Mold and mildew thrive on moisture, so these foul odors are early warning signs of excessive humidity in your home. Mildew, mold, and other symptoms of humidity can be a detriment to your home so make sure you contact our professionals as soon as possible.
You Notice Water Damage
Water stains are yet another sign that you have high levels of humidity in your home. If you notice a water stain in your home you should call a professional. We can determine if the problem is really humidity or if it's a problem with a leaking pipe. After we determine the source of the problem we can develop a plan of action to fix it and then match you with a great dehumidifier.
How Do Whole-House Dehumidifiers Operate?
We prefer whole-house dehumidifiers here at our company because they eliminate the problem at the source. Small portable systems just can't compare. Whole-house dehumidifiers pull the air from your home, remove the moisture, and then send the dry air back through your ductwork.
Whole-house dehumidification systems can work in conjunction with your air conditioner or completely independently for your air conditioner depending on the needs of your home. These systems are great because they help you feel more comfortable in your home and subsequently help you cut down on cooling costs in summer. Make sure you contact a reliable team like ours to install, repair, or maintain these systems.
Are you ready to install a dehumidifier in Birmingham, AL home? Contact our experts at Sullivan Service Co today to schedule an appointment with our team.